Memory and Invention (Online) October 2021: an imaginative approach to the portrait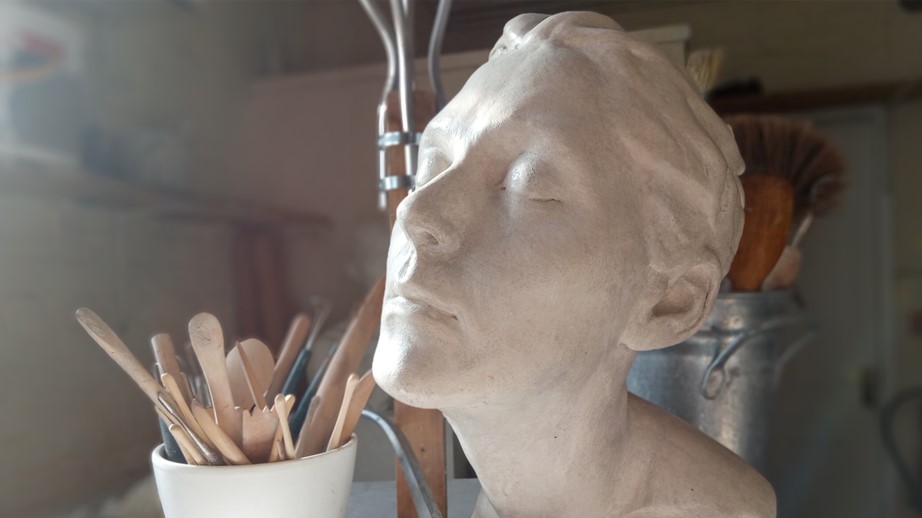 Monday, Wednesday & Friday October 11th, 13th, and 15th from 10 a.m. to 4.30 p.m.
This course departs from the familiar ground of the portrait from life. We'll be expanding the definition of portraiture to encompass a variety of sources: photos and film stills, literature, myth, and allegory.
But experimental working needs to be anchored by sound methodology. The course will draw on the fundamentals of observation, measurement, and anatomy, to help you make a convincing portrait in clay – wherever your imagination might take you.
The course includes a balance of screen time and time working individually with access to one-to-one advice. It also includes access to an information hub and group gallery and a group review 2-3 weeks after the end of the course, by arrangement.
Comprehensive course notes will be provided well in advance to assist with preparation. And you'll need to set aside some time to get ready for working from your home or studio.
If you think you might be interested in this online sculpture course, but you're not sure whether you have the right experience, space, or equipment to sign up, please click on "Online Sculpture: FURTHER INFORMATION"
Level: Intermediate
Early bird price (for bookings up to four weeks prior to the start date): £150
Standard price: £165
Prices exclude materials and equipment.
CONCESSIONS: The concessionary rate is the early bird price less a further 5% – whenever booked. This discount is offered on trust – just let me know when you book. Please respect this trust system so that I can continue to offer a meaningful concession.